Hello, welcome to my website about Clark Gable, the KING OF HOLLYWOOD. I am a film historian and an ardent fan of Clark Gable. Half a century after his death, Gable has not been dethroned as the King. He appeared in over 65 major films and his name above the marquee always meant box office glamour. If there was anything like macho glamour, he certainly had it! Women were in love with him and men adored him, and for 30 years, Hollywood was in awe of him. He was bigger than life, a real icon. Yet in true life he was a humble and sincere man. Gable was always sensitive of his big hands. And he always felt that he had been a lucky guy, so sit back and enjoy my fun website on this legendary star.
- Pierre Montiel, March 2011

BIOGRAPHY (1901-1960)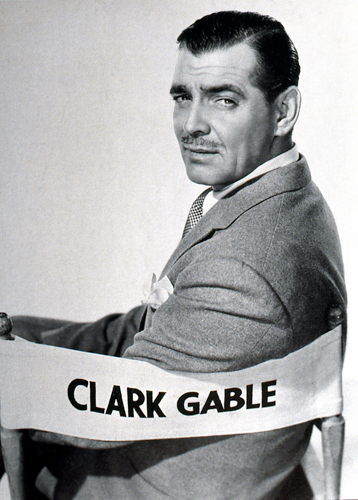 Gable was the greatest cinema star of the mid 20th Century. Clark Gable was born on February 1, 1901 in Cadiz, Ohio. As a young man he worked in oil fields, was a lumberjack, and even a telephone lineman. In 1920 he became an actor in various stock companies in the Midwest. He even appeared as an extra in a few silent films. By 1928 he was a matinee star on the legit stage in Chicago, New York, and Los Angeles. Gable began his famous Hollywood career in "The Painted Desert" (1931) for Pathé as a villain. That same year he signed with MGM where he would stay for the next 24 years as their biggest moneymaker. In 1931 alone Gable would appear in 11 more films. Overnight he was the hottest property in Hollywood. In the movies he would give his female co-stars the caveman treatment if she misbehaved and female audiences loved it. In 1934 Gable won his one and only Oscar for Best Actor in the comedy movie "It Happened One Night" over at Columbia. This was followed with such MGM film hits as "Mutiny On the Bounty" (1935), "San Francisco" (1936) and "Test Pilot" (1938). In 1937, Ed Sullivan and the New York Daily News voted Clark Gable officially the King of Hollywood, a title that stuck to him for the rest of his life. But it was his role as Rhett Butler in "Gone With The Wind" (1939) that he became immortalized in film history. Gable married five times. His third marriage with actress Carole Lombard ended in 1942 when she died tragically in a plane crash. During World War II he served in the U.S. Army as an aerial gunner in England. Gable became a war hero in the eyes of the American public. After the war Gable resumed his film career with such memorable movies as "Mogambo" (1953) and "The Misfits" (1961) co-starring the tragic Marilyn Monroe. Sadly, he died on November 16, 1960 at the age of 59 from a heart attack. The nation and Hollywood mourned his loss. It was the end of an era in Hollywood. The King was dead.