KEY FILMS
It Happened One Night (1934)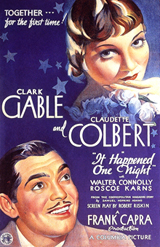 Clark Gable and Claudette Colbert both won Oscars, for Best Actor and
Best Actress. On loan to Columbia Pictures, Gable came back to MGM a
bigger star. The film became an instant classic and the surprise moneymaker
for 1934.
COLUMBIA
DIRECTOR: Frank Capra
Clark Gable, Claudette Colbert, Walter Connolly, Roscoe Karns,
Alan Hale, Ward Bond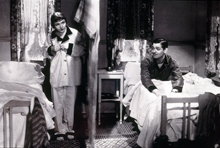 Call of the Wild (1935)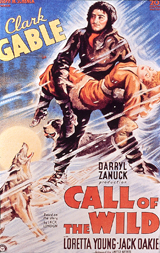 On loan to 20th Century Fox, Gable appeared in this film adaptation
of Jack London's famous book. The chemistry between Gable and
Loretta Young was electrifying both on and off the screen.
20th CENTURY FOX
DIRECTOR: William Wellman
Clark Gable, Loretta Young, Jack Oakie, Frank Conroy, Reginald Owen,
Sidney Toler, Katherine DeMille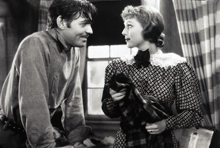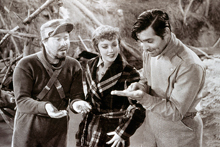 Mutiny On the Bounty (1935)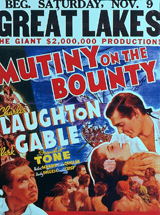 Gable as Fletcher Christian and Charles Laughton as Captain Bligh, directed by
Frank Lloyd, produced by Irving Thalberg, the film won the Oscar for Best Picture
of 1935.
MGM
DIRECTOR: Frank Lloyd
Clark Gable, Charles Laughton, Franchot Tone, Herbert Mundin, Eddie Quillan,
Donald Crisp, Spring Byington, Movita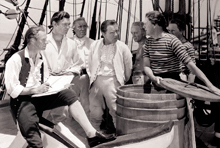 San Francisco (1936)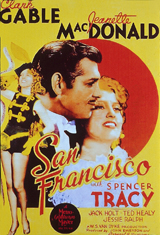 Gable, Tracy, MacDonald and the 1906 earthquake were the stars of this
disaster film. Directed by W.S. Van Dyke, it was MGM's biggest hit worldwide
for 1936.
MGM
DIRECTOR: W. S. Van Dyke
Clark Gable, Jeanette MacDonald, Spencer Tracy, Jack Holt, Jessie Ralph,
Ted Healy, Shirley Ross, Edgar Kennedy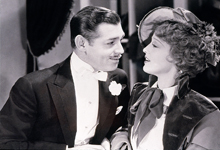 Idiot's Delight (1939)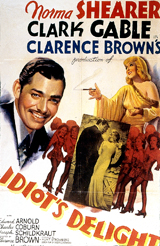 Gable and Norma Shearer star in the film adaptation of Robert E. Sherwood's
Broadway play. This anti-war film was Gable's third teaming with Shearer.
MGM
DIRECTOR: Clarence Brown
Clark Gable, Norma Shearer, Edward Arnold, Charles Coburn, Joseph Schildkraut,
Burgess Meredith, Laura Hope Crew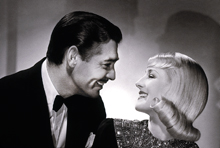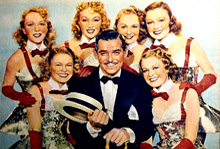 Gone With the Wind (1939)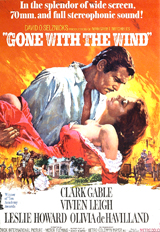 Gable and Vivien Leigh co-starred in the most famous film of the 20th Century. The film won 10 Oscars including Best Actress for Ms. Leigh. Gable did not win an Oscar!
MGM /SELZNICK
DIRECTOR: Victor Fleming
Clark Gable, Vivien Leigh, Leslie Howard,
Olivia de Havilland, Hattie MacDaniel, Thomas Mitchell, Barbara O' Neill, Victor Jory,
Evelyn Keyes, Ann Rutherford, Butterfly McQueen, Laura Hope Crew, Ona Munson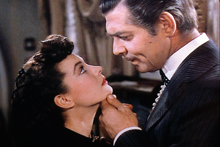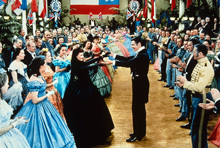 Mogambo (1953)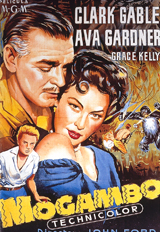 Gable's biggest box office hit of the 1950's, filmed on location in Africa
with Grace Kelly and Ava Gardner. It was a remake of Red Dust and
Gable's biggest hit in the postwar years.
MGM
DIRECTOR: John Ford
Clark Gable, Ava Gardner, Grace Kelly, Donald Sinden, Philip Stainton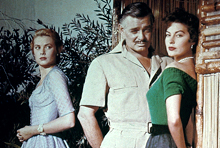 The Misfits (1961)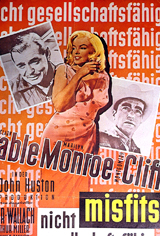 Gable's final movie, co-starring Marilyn Monroe and Montgomery Clift, proved
to be a unique film. Screenplay by Arthur Miller, directed by John Huston, it
proved Gable was a good, solid actor. Unfortunately the film contributed to
Gable's untimely death.
UNITED ARTISTS
DIRECTOR: John Huston
Clark Gable, Marilyn Monroe, Montgomery Clift, Thelma Ritter, Eli Wallach,
James Barton, Estelle Winwood